The Best Link in Bio Tool for Discord Owners (2023 Guide)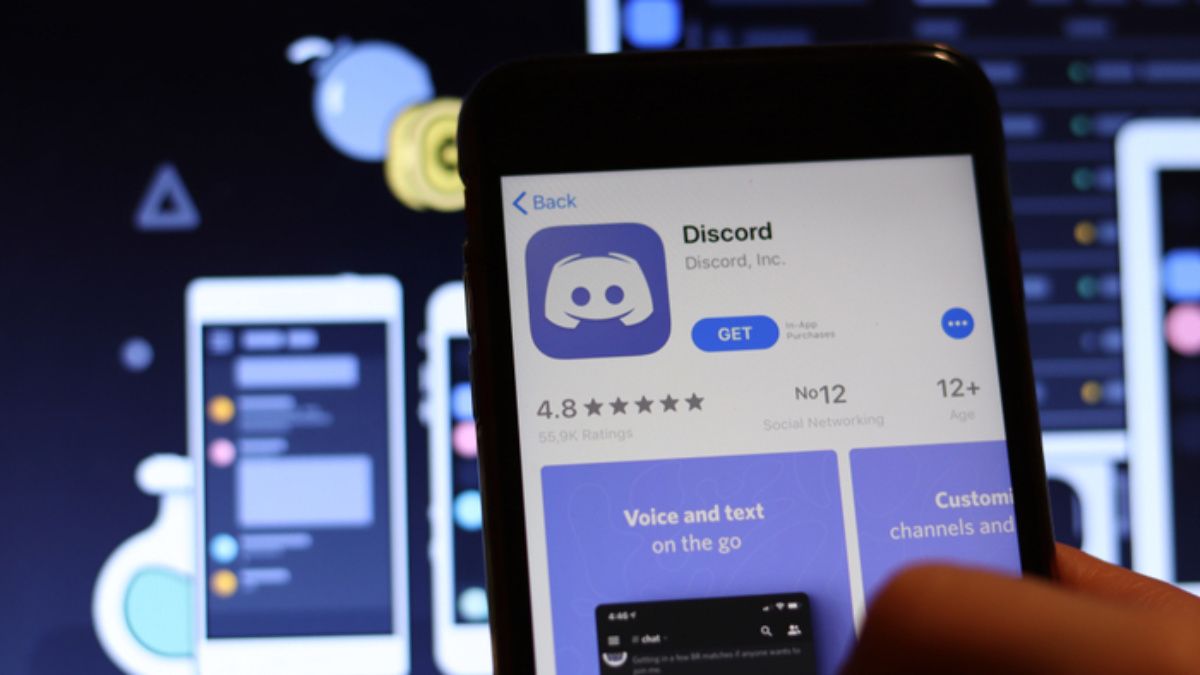 As a Discord owner, it's crucial to make it easy for your audience to find your other online presence. However, with the limited space in your Discord profile, it can be difficult to include links to all of your relevant platforms. That's where a link in bio tool comes in handy.
In this article, we'll explore what link in bio tools are and how they work, as well as introduce the best link in bio tool out there for Discord owners.
---
The Best Link in Bio Tool, FYP.bio!
FYP.bio is an advanced link in bio tool that allows you to aggregate all of your links, including but not limited to social media profiles, products, websites, and everything else.
What is a Link In Bio Tool?
Link in bio tools are used to optimize the use of the "link in bio" feature on social media platforms, especially Instagram. These tools allow users to create a custom landing page with multiple clickable links that can be easily shared with their audience. This enables businesses, influencers, and content creators to drive traffic to multiple websites, products, or services from a single link in their Instagram bio.
FYP.bio is the easiest link in bio tool website. The unique monetization tools can turn your bio page into a storefront where your followers can purchase content, cameos, 1:1 calls, community access, and more.
FYP.bio is known by many creators as the place where visionaries build empires.
The best part is it's completely free to use and publish with advanced customization features.
💡
Check out
FYP.bio
today to grow your social media presence.
---
Why Is It Important For Discord Owners To Use? Link In Bio Tools?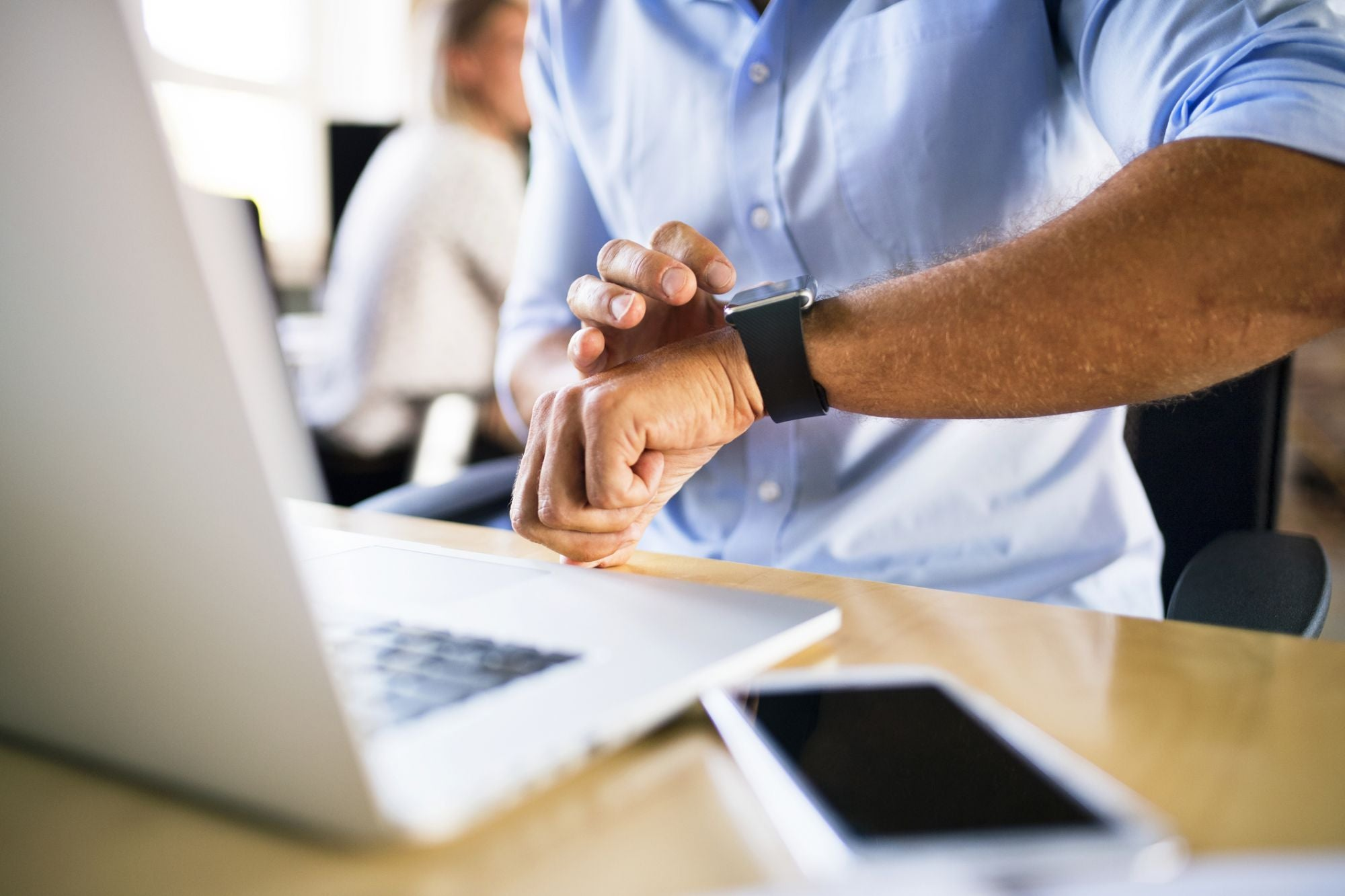 You may want your Discord audience to follow your social media accounts, websites, and blogs. However, your Discord profile has limited space, making it difficult to include links to all of these platforms.
Link-in-bio tools help. As stated above, they let you create a landing page with clickable links to your online platforms. Instead of sending your audience to multiple platforms, direct them to a single link in your Discord profile where they can access all of your links.
Include links to your social media accounts, website, and blog to help your audience find and follow you. Using link in bio tools, such as FYP.bio, allows you to customize landing pages to match your brand and aesthetic, distinguishing yourself from the competition. This can boost your online presence, maximising your growth.
Some link in bio tools also allow you to track which links are most popular and which platforms are generating the most traffic. This can help you understand and cater to your audience online.
Discord owners should use a link in bio tool to boost their online presence and traffic. Including links to all of your relevant platforms in a single link makes it easier for your audience to find and follow you, increasing engagement and growth.
---
Things To Put In Your Link In Bio: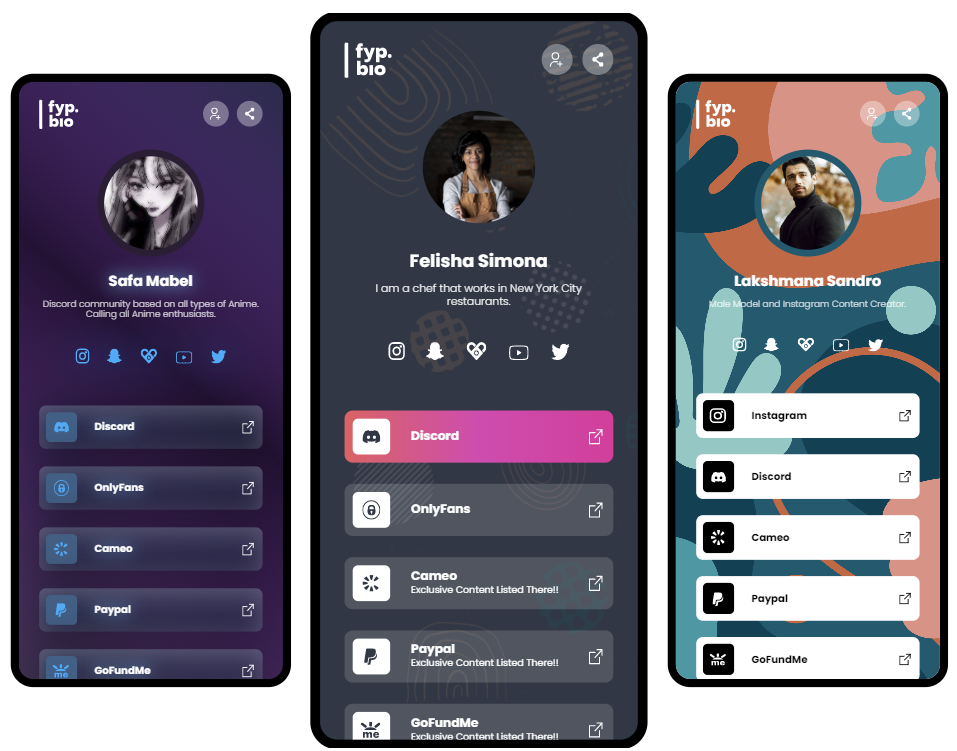 The links you choose to include in your "links in bio" section should reflect your online presence and personal brand. Here are some suggestions for links to consider:
Social Media Profiles: Add links to your other social media accounts, such as Instagram, Twitter, Facebook, LinkedIn, Pinterest, or TikTok, to cross-promote your online presence.
Personal Website or Blog: If you have a personal website or blog, include a link to direct visitors to your portfolio, writings, or other content that showcases your skills and interests.
YouTube Channel or Podcast: Share the link to your YouTube channel or podcast if you create video or audio content, allowing people to easily access and subscribe to your work.
Online Store or Merchandise: If you sell products or have branded merchandise, add a link to your online store, Etsy shop, or other e-commerce platform.
Contact Information or Booking: Include a link to your contact form, email address, or booking page to make it easy for people to reach out for collaborations, inquiries, or appointments.
Professional Profiles: Share links to professional platforms like GitHub, Dribbble, or Behance if you want to showcase your work in fields like coding, design, or art.
Donation or Support: If you accept donations or have a Patreon, provide a link to allow supporters to contribute to your projects and content.
Event or Workshop Registration: If you're hosting an event, workshop, or webinar, include a link to the registration or ticketing page.
Newsletter Signup: Add a link to your email newsletter signup form to grow your subscriber list and keep your audience updated on your latest content, news, or promotions.
Featured Content or Projects: Highlight specific articles, projects, or collaborations by linking directly to them, showcasing your most recent or most significant work.
Remember to prioritize the most relevant and important links based on your goals and audience interests.
---
FAQs:
How do you manually add a link in bio?
To manually add a link in your bio, you're going to have to decide where to place the link and then past a URL.

Read on to find out how.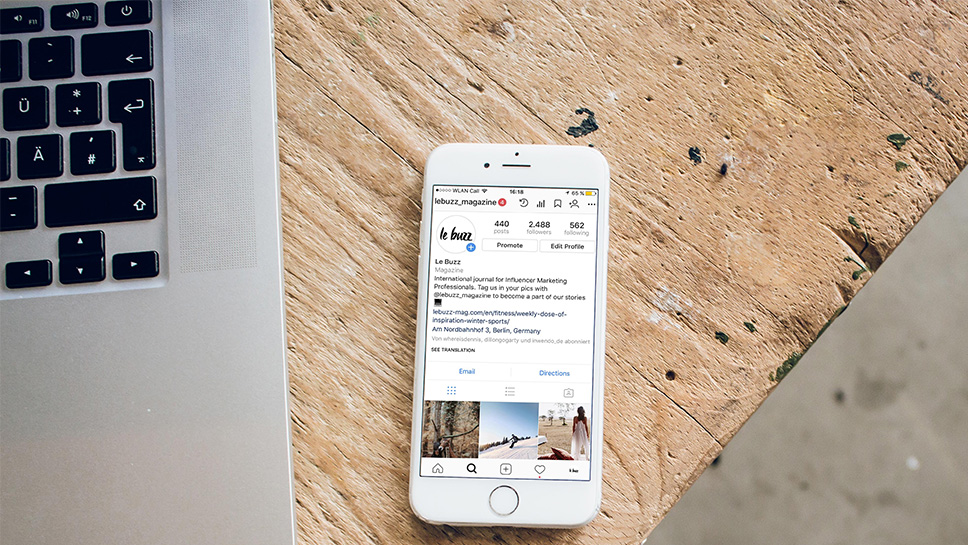 Depending on the platform you wish to manually add the link to, you can do so in your bio. But generally speaking, these are the procedures you can use to manually put a link in your bio:
Decide where to place the link: This might be in any platform you wish to drive people to, such as your website, blog, or social network profile.
Find the area where you can insert a link: It might be a text box with a separate "link in bio" area, a button, or nothing at all.
Take note of the page's URL and copy it: Copy the URL of your Instagram profile, for instance, if you wish to link to your Instagram account.
Put the URL where you wish to add the link by pasting it there: Simply paste the URL into the text field if there is a designated "link in bio" section. If a button is present, click on it before pasting the URL into the appropriate field. If there is a text box, click the hyperlink button after selecting the text you want to serve as the link. Paste the URL into the space provided after that.
Adjust the connection as needed: On some platforms, you can change the link content or include tracking information in the URL.
Publish or save your modifications: Once the link has been inserted, make sure to save or publish your modifications so that your audience can see it.
Don't forget to test the link to make sure it takes your audience to the right website and is functioning properly.
Why is my FYP.bio link not working?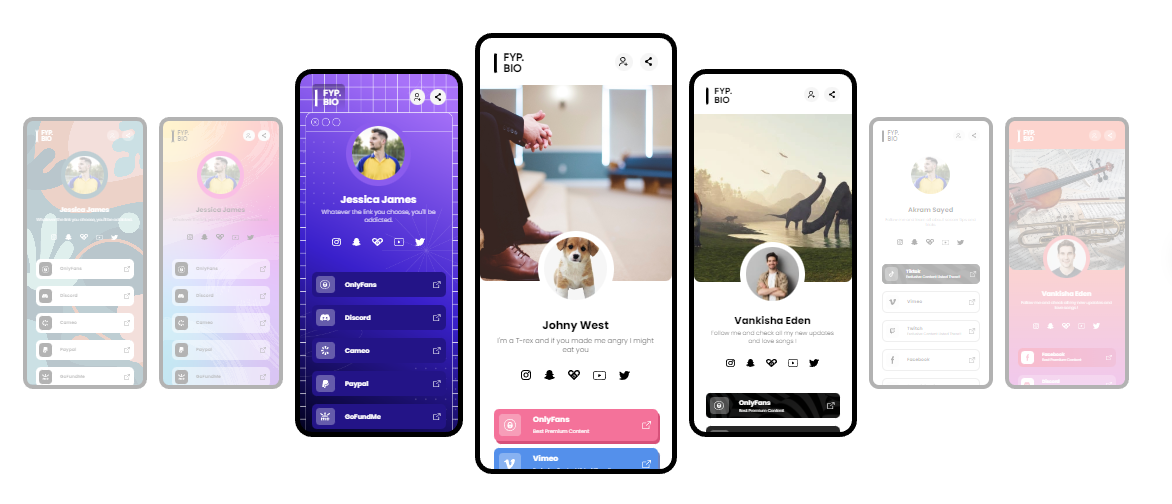 There are several reasons why your link in bio tool may not be working. Here are some of the most likely explanations:
Incorrect URL: Make sure that the URLs you have entered in your link in bio tool are correct and are leading to the correct destination. Double-check that you have not made any typos or errors while entering the URL.
Invalid characters or symbols: Some link in bio tools may not support certain characters or symbols in the URL, which could cause the link to not work properly. Make sure to avoid using characters like #, %, or & in your URLs.
Blocked by ad-blockers or firewalls: Some users may have ad-blockers or firewalls that prevent them from accessing certain websites, which could prevent the link from working for them.
If you are still experiencing issues with your link in bio tool, try testing the link on different devices and internet connections to see if the issue persists. If the problem persists, contact the support team of the link in bio tool for further assistance.
---
Conclusion:
Discord owners can use a link in bio tool to boost visibility and audience engagement. Due to Discord's restricted capacity, it's difficult to link all your relevant platforms. But, FYP.bio can help you create a unique landing page with many clickable links that can be easily shared with your audience. This maximizes growth and makes your audience more easily be able to find and follow you.
The special monetization option provided by FYP.bio may make your bio page into a storefront where your followers can buy your content, cameo appearances, 1:1 calls, community access, and more. Besides from being totally free to use and publish, it also has sophisticated customization possibilities. Moreover, link in bio tools let you keep tabs on which platforms and links are driving the most traffic. Using this information will help you better understand and serve your online audience, which will boost engagement and business success.
To summarize, proprietors of Discord should make use of the link in bio tools to enhance their online visibility and increase traffic to their numerous platforms. You may make it simpler for your audience to identify and follow you by combining links to all of your pertinent platforms into one link, which will eventually boost interaction and growth. Since it is entirely free to use and offers the most unique features, FYP.bio is the greatest link in bio tool available for Discord users thanks to its special set of capabilities.