Discord is a one-of-a-kind platform that combines messaging apps, forums, and voice-over-IP services to give an all-in-one communication solution. It began in 2015 as a gaming refuge, but has since grown into a global platform catering to a variety of communities and interests. In 2023, Discord is much more than a platform for gaming discussions. It has grown into a major hub for online communities where people gather to discuss anything from the latest tech trends to yoga techniques.
---
What is Discord?
Discord is a cross-platform software that facilitates quick communication. It allows users to communicate in a number of methods, including as text messaging, phone chat, and video calls. Channels may be created inside servers (essentially groups), allowing for multiple topics of discussion within the same community. Users may effortlesslyexchange data, broadcast gameplay, hold video meetings, and even organize events. With millions of active users globally, the platform's adaptability and agility have allowed it to prosper. Custom emojis, reply roles, and bots are among the many features available for a more dynamic and personalized user experience.
What  is a Discord Server?
The platform's community-building feature is centered on a Discord server. Consider it a discrete region for a certain group of people. Each server can host a number of channels, which are dedicated venues for conversation and can be text or voice. A single server may handle a variety of topics, from general conversation to specific arguments about movies, literature, music, and other forms of culture. Furthermore, server owners have the ability to control permissions, ensuring that each user has access to the appropriate channels and functionalities while maintaining a sense of order and community standards.
How to Sign Up for Discord
Joining Discord is a straightforward process. To begin, you must create a free account. This may be accomplished using the Discord website or the Discord app, which is available for Windows, Mac, Linux, iOS, and Androiddevices. After your account is created, you can join servers. This is normally accomplished by an invite link provided by the server owner or a member. Alternatively, you might search for public servers on a variety of topics that interest you. Discord also allows you to build your own server, where you may add friends, create channels, and manage itas you want.
How FYP.bio Can Assist You in Expanding Your Discord Server Presence
FYP.bio, a popular tool for integrating several online sites, can help your Discord server gain awareness. You may use a FYP.bio to organize all of your online presences into a single, clickable list. This might include your socialmedia networks, website, and, most importantly, your Discord invite link. When you share this FYP.bio across several platforms, your audience will have instant access to your Discord server, which might lead to an increase in membership. By providing a one-stop solution for all of your online platforms, FYP.bio increases traffic and activity on your Discord server.
Dangers of Discord
While Discord has many benefits, it also has certain drawbacks, particularly for younger users. The most serious concern is exposure to incorrect information or unsafe interactions, since some servers or users may spread explicitcontent or engage in cyberbullying. Discord does have a content filter and reporting mechanism, but it is notflawless. Furthermore, the possible sharing of personal information raises concerns about privacy. To mitigate these risks, users must adhere to internet safety practices such as avoiding sharing personal information, reportingharmful activity, and parents supervising their children's activities.
Is Discord a for-profit service?
Discord is generally free to use. You may sign up for an account, join servers, chat, and use many of the services for free. Discord, on the other hand, offers a premium membership known as 'Discord Nitro.' Benefits of this subscription include customized Discord tags, animated avatars, higher quality video and screen sharing, and larger upload limits. The charges for Nitro membership vary, but be assured that these are optional, and Discord's core functions remain free.
How to Make New Friends in Discord
Meeting new people on Discord may be a pleasant experience because it is a cultural melting pot. Joining servers that cater to your interests is the simplest way to get started. If you enjoy gaming, movies, reading, or learning newlanguages, there is a server for you. Active participation in these community chats allows you to connect with others who share your interests. Discord also hosts public events, Q&As, and online meetings where you may meet new people. Remember that following each server's instructions and being respectful in your interactions are key to ensuring a positive experience for everyone involved.
---
FAQs:
How can I join a Discord server?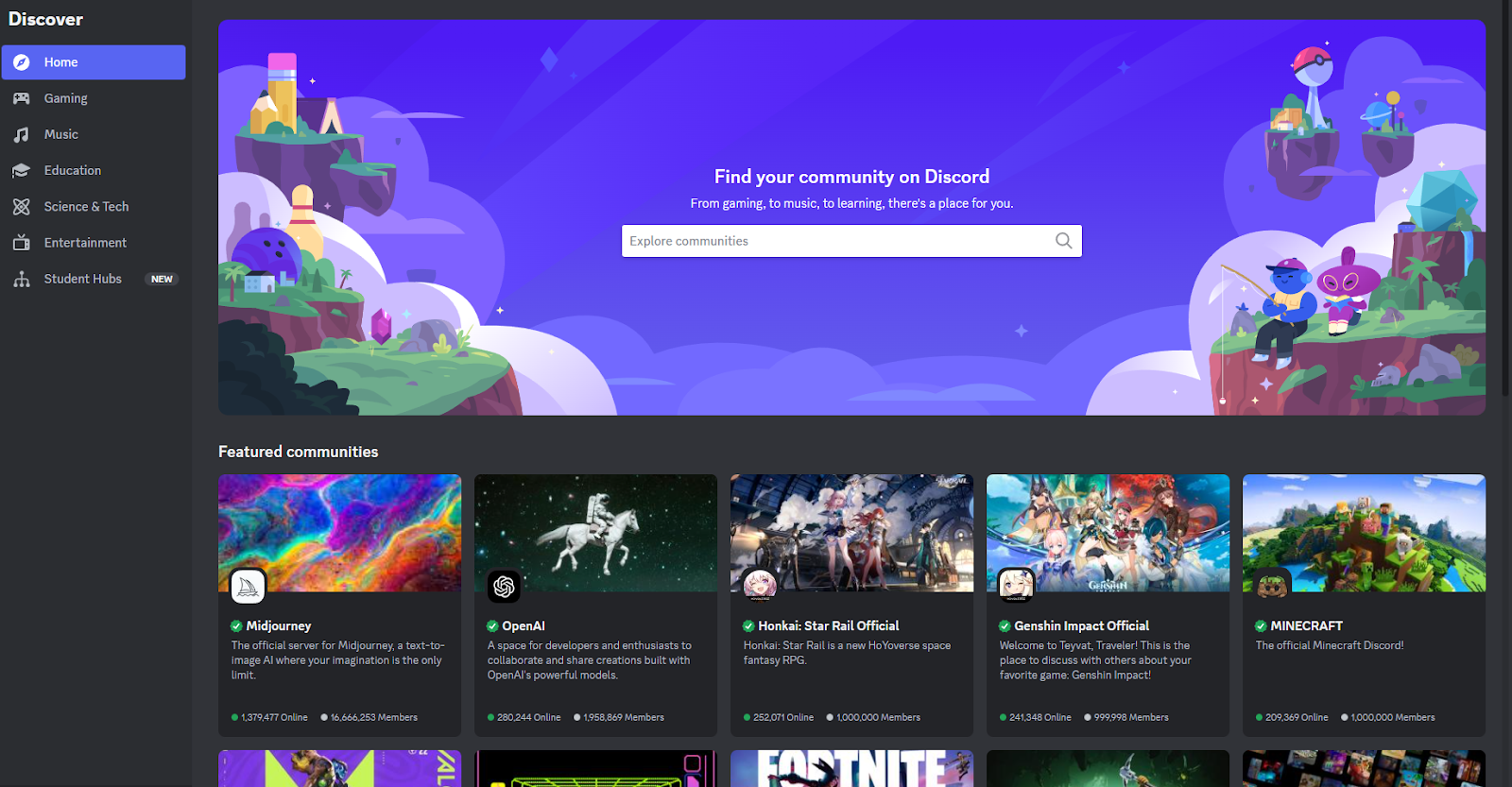 Discord is a popular communication and community-building software, and joining a Discord server is simple. Here's a step-by-step instruction for joining a Discord server:
Sign up for a Discord account: If you don't already have one, go to the Discord website (https://discord.com/) and select the "Login" button in the top-right corner. Fill in your information to set up an account.
Download and install Discord: Once you've created an account, you can download and install the Discord application on your computer or mobile device. Go to the Discord website and select the "Download" option that corresponds to your operating system. Install it by following the instructions.
Launch Discord and sign in: To sign in to your account, launch the Discord app and input your login credentials (email and password).
Joining a server: There are several methods for joining a Discord server. The most prevalent methods are:
Invitation link: If you receive an invitation link from someone, click on it to open it in your Discord program. A window will appear asking if you want to join the server. To join the server, click the "Join Server" button.
Server search: If you know the name or topic of the server you wish to join, go to Discord's left sidebar and select the "Add a Server" button. Then select "Join a Server" from the drop-down menu. Enter the invite code or server address.
What are the most effective ways for growing a Discord community?
To grow your Discord community, establish clear goals, invite engaged friends, and regularly post relevant content. Encourage active member participation and promote your community on social media to attract new members.
Discord has grown in popularity as a platform for creating online communities for gaming, hobbies, and professional interests. Here are some practical ways you may use to expand your Discord community:
Establish a clear goal: Communicate the aim and concept of your Discord community clearly. This can assist you attract like-minded people who are interested in the specialty of your community.
Invite friends and acquaintances: Begin by inviting friends and acquaintances who you believe might be interested in joining your Discord group. They can assist in igniting dialogues and involvement.
Create engaging material: Post fascinating and relevant information in your Discord community on a regular basis. This can contain conversations, news, lessons, or anything else that members will find useful. Content that is interesting will stimulate involvement and attract new members.
Encourage member participation: Encourage members to actively participate in community discussions and activities. Encourage them to contribute their thoughts, experiences, and even to arrange activities. Engage members actively to make them feel appreciated and heard.
Use social media to advertise your Discord community: Use social media sites such as Twitter, Facebook, Instagram, or Reddit to promote your Discord community. To attract new members, share community highlights, events, and intriguing topics.
How can I make money from my Discord server?
Discord servers have grown in popularity as a way for communities, gamers, and content providers to communicate with and engage their audiences. While Discord does not offer direct monetization possibilities, there are various ways you might indirectly monetise your Discord server. Here are a few suggestions:
Patreon or Subscriptions: Create a Patreon or subscription model where people may donate monthly to your server. In exchange, provide patrons unique advantages like early access to material, exclusive positions, or secret channels.
Selling products: Create and sell products connected to the topic or brand of your Discord server. T-shirts, stickers, mugs, and other items of importance to your community might be included.
Sponsored Partnerships: Work with brands or companies that are related to the niche of your server. You can provide sponsored positions, channels, or events for them to market their products or services in your community. To preserve authenticity, make sure the connections correspond with the interests of your target audience.
Adverts: Consider introducing adverts if your server has a significant and active user base. This can be accomplished through the use of banner advertisements or sponsored communications from relevant companies or advertisers. However, be mindful not to overburden your community with advertisements, since this may negatively effect their experience.
Events and Tournaments: Host events and tournaments on your Discord server and charge an entrance fee or take contributions to participate. You may give away prizes or special advantages to the winners, and the proceeds can be used to sustain the server.
---
Conclusion
Discord is a dynamic communication network that has expanded its reach beyond gaming communities to different interest groups since its start in 2015. It provides an easy-to-use interface for text messaging, audio chat, and videoconferencing, all of which are hosted on customized servers for organized conversations. Joining is simple and mainly free, however Discord Nitro offers paid extras. Although using technologies such as FYP.bio might improve a server's internet visibility, users should be mindful of possible risks such as improper material and privacy concerns. Despite these reservations, Discord is a vibrant platform for meeting and interacting with new individuals who have similar interests.