How to use Templates for Discord (2023)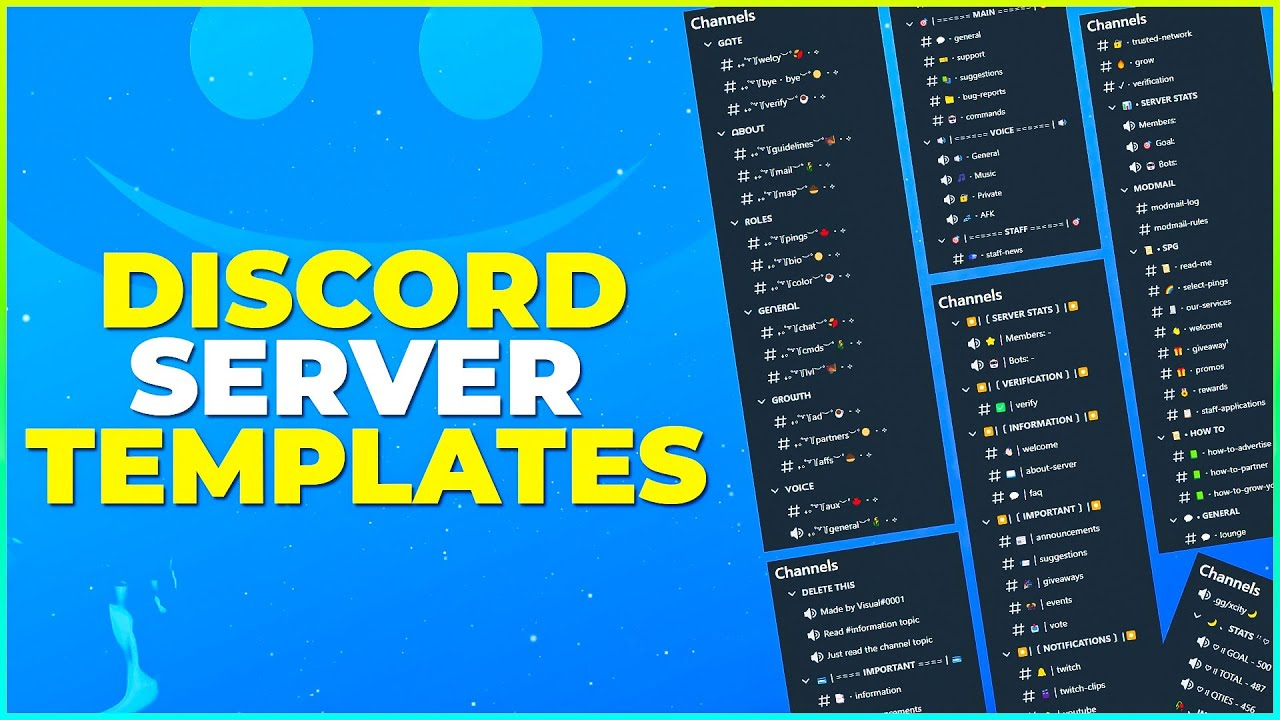 Templates have completely changed the way servers are created and managed on Discord. They offer a straightforward, user-friendly method for building new servers, customizing them to suit particular requirements, and even importing pre-existing settings.
They have shown to be a game-changer by making it simple for anyone, regardless of technical ability, to quickly and easily construct an interesting and organized server on Discord.
---
Step-by-Step: Creating Your First Discord Template: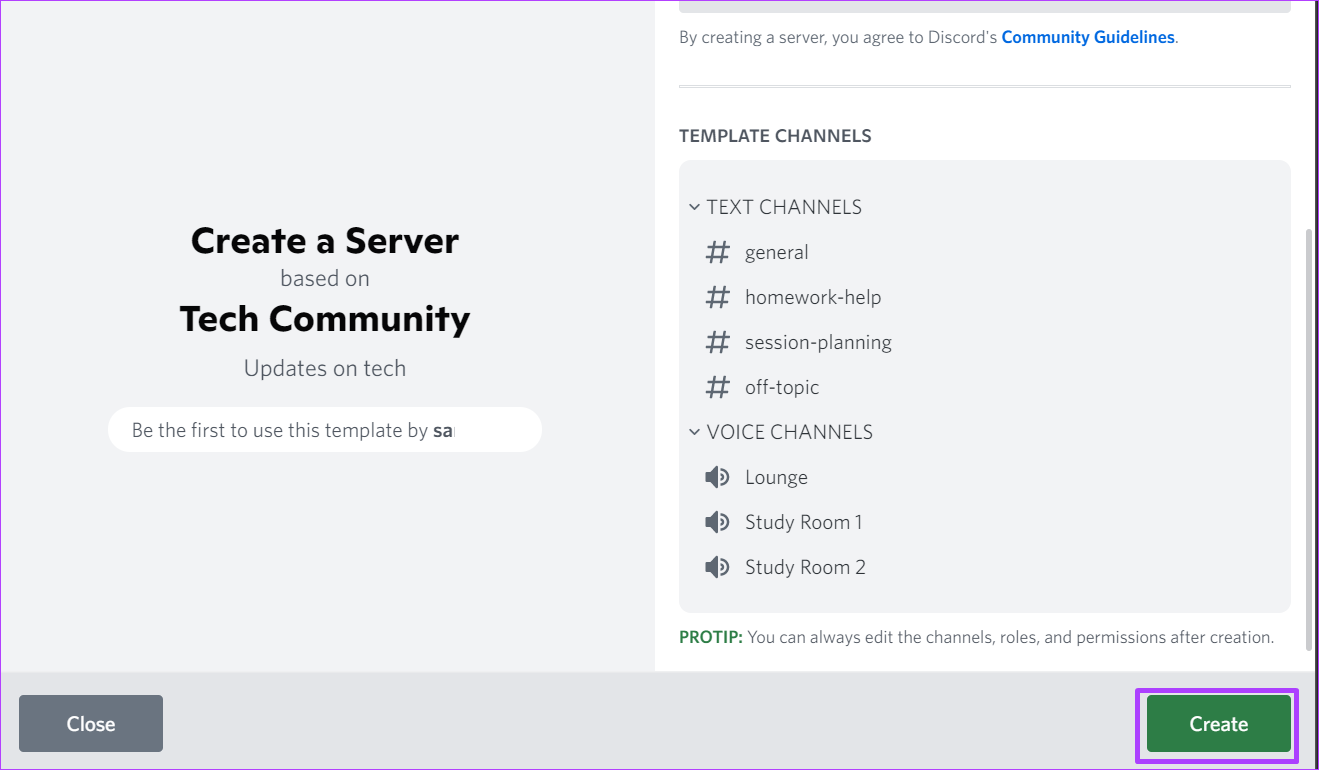 The accomplishment of making your first Discord template is thrilling. It enables you to set up your server and choose the different channels and roles that will characterize your Discord community. Here's a straightforward, step-by-step manual to get you going:
Go to the server you want to create a template for in Discord by opening the app.
A dropdown menu will display when you click on the server name in the top-left corner of the screen. From this menu, choose 'Server Settings'.
Locate and choose the 'Server Template' option under the Server Settings menu.
A new template creation option will then be shown to you. When you click on it, Discord will automatically create a template depending on the settings of your current server.
Finally, give your template a name and, if you like, a description. When you're finished, click 'Generate Template,' and your server template will be produced!
Making the Most of Templates: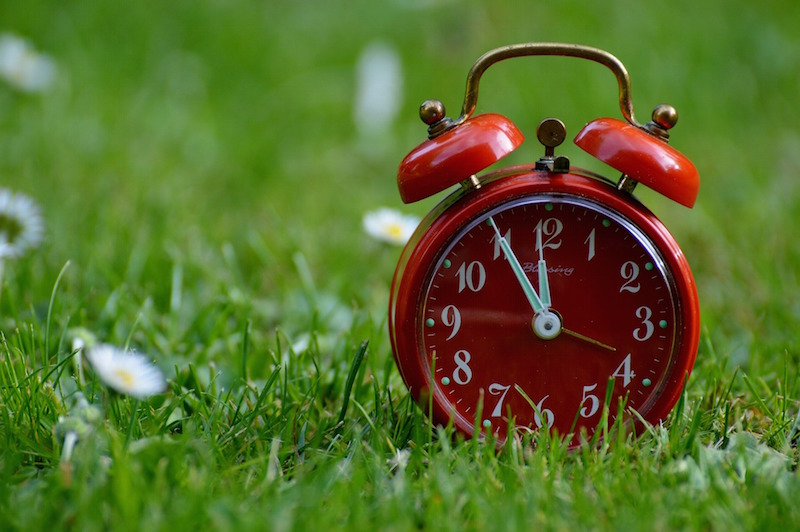 Discord templates' adaptability is what gives them their genuine beauty. Because of their extensive customization options, you may design a server that accurately reflects the requirements and character of your community. Here are some tips for maximizing the use of your templates:
Roles: To save time and guarantee consistency across your server, predefine roles with their rights and order.
Channels: You may immediately set up text and audio channels using templates. This is excellent for pre-planning the organizational layout of your server.
Server Settings: You can pre-set everything in your template, from the server area to the AFK settings.
Keep in mind that your server will be more unified and well-organized the more attention you put into your template.
How to Import a Discord Template: A Step-by-Step Guide: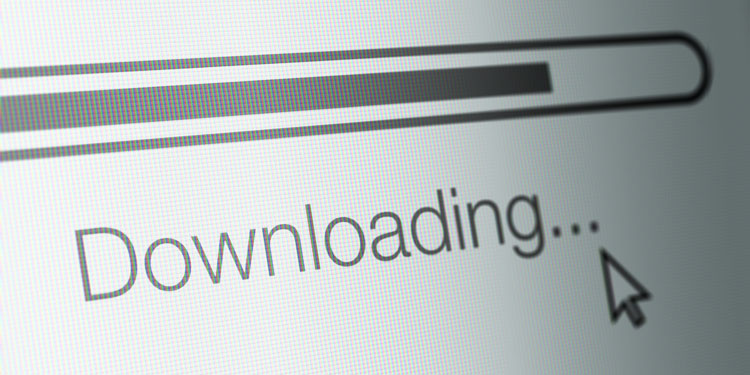 It's just as easy to import a template into Discord as it is to create one. This is how you do it:
You must first have the template URL that has been given with you.
Open Discord, and on the left side of the screen, in the server selection column, click the + sign.
Choose "Create a server" and then "Use a template."
Insert the template link into the space provided and select "Next."
Click "Create" after giving your new server a name and, if you'd like, choosing a region.
Voila! With the pre-set settings from the template you just imported, your server is now operational.
Tips for Managing and Updating Your Discord Templates: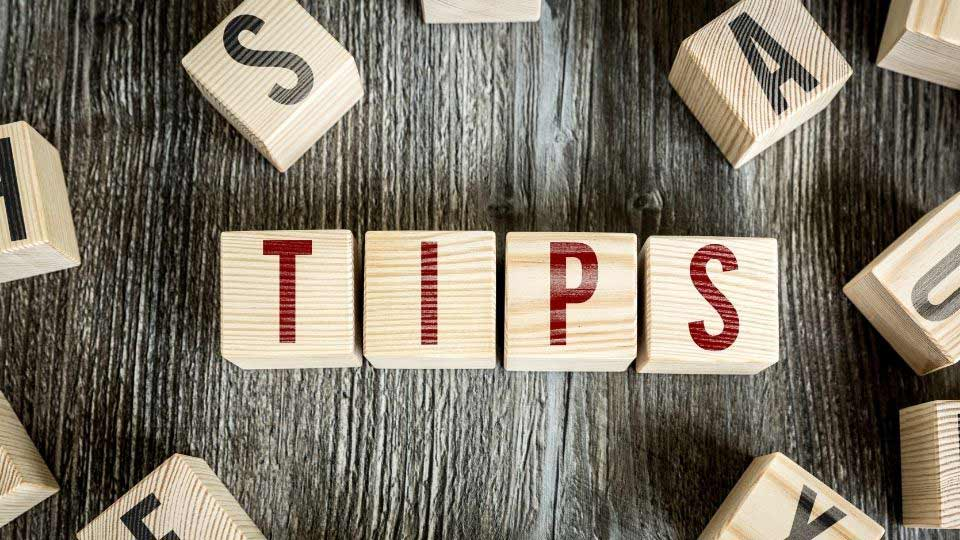 You must consistently manage and update your templates if you want to keep your server functional and well-organized. Here are a few advices:
Keep it Fresh: As your server develops, regularly update your templates to accommodate new roles, channels, or permissions.
Version control: Instead of overwriting the previous template when making important changes, think about saving a new template. In case the changes don't work out, you will have a backup in this manner.
Utilize Defining Names: Create meaningful template names so you can quickly recognize them.
Using the Template Library: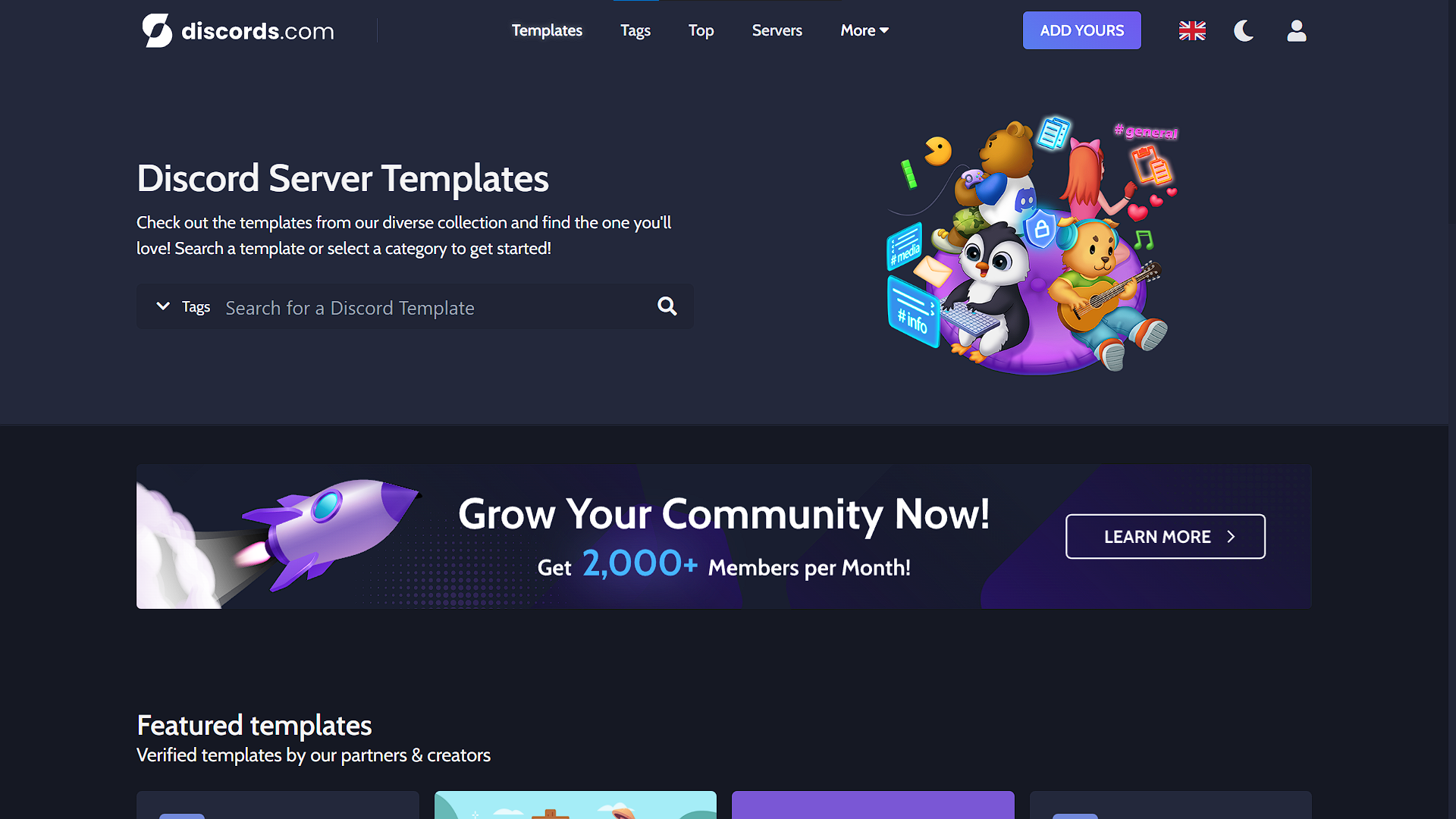 The Discord template collection is a gold mine of pre-made templates that can help you get your server setup faster. It includes a wide range of templates for various community types, including those for gaming, education, music, and more. If you're looking for something specific, you can either search by category or use the search bar or even use Discords.com's Server Templates.
Protecting Your Server: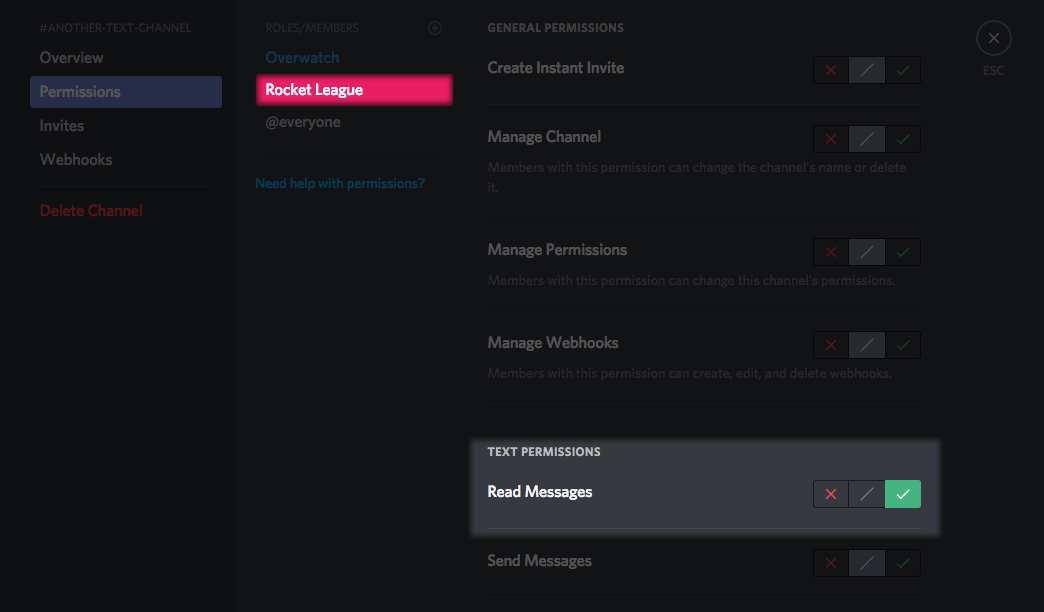 Last but not least, it's crucial to think about your server's security. While using templates simplifies the process of setting up a server, you must also take precautions to protect your community's members. Here are some pointers:
Role Permissions: Take care to limit who has access to the server's administrative functions. Just the most dependable members should have this position.
Use only bots from reliable sources, and always carefully consider the permissions they want. If not handled appropriately, bots may pose a security risk.
Verification Levels: Use Discord's verification levels to guard against spam and raids on your server.
---
FAQs:
How do I use a template in Discord?
Users can save and share their server settings, roles, channels, and permissions with others in Discord by using templates. This aids in providing new users with a streamlined and uniform server experience.
Following is a guide on how to utilize a template in Discord: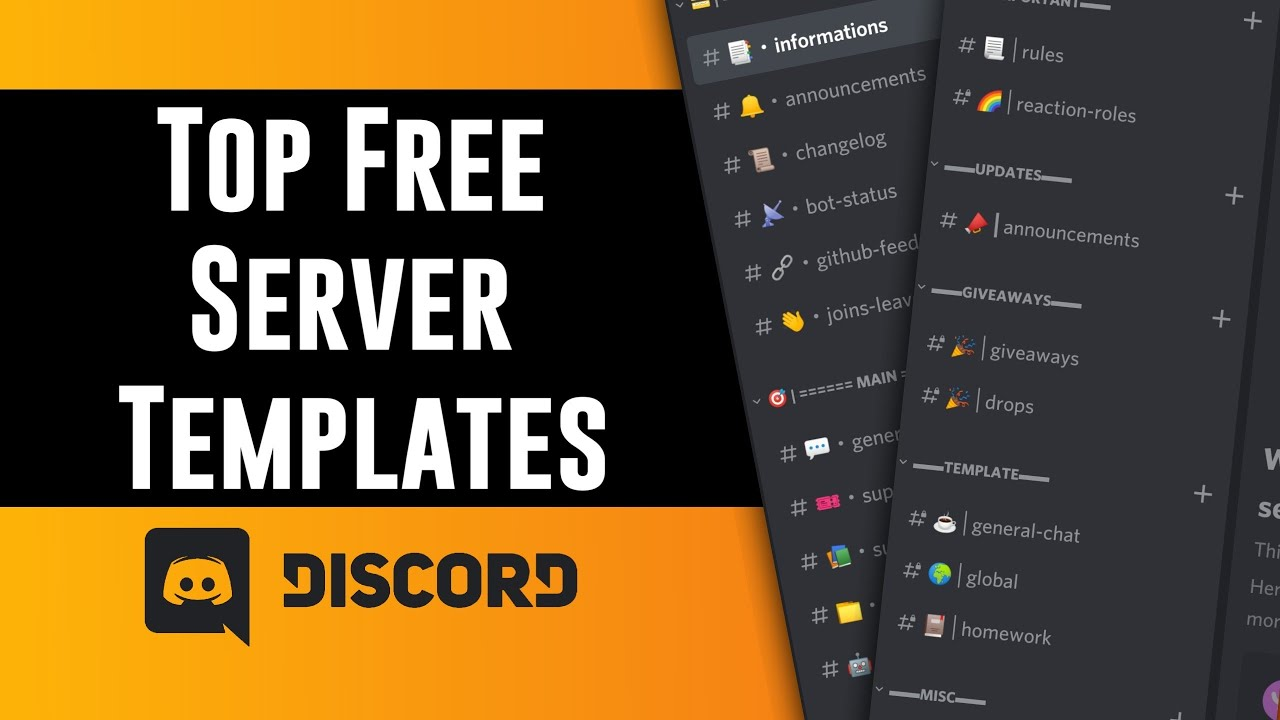 Use the feature of the server templates: You must either be the server owner or have the "Manage Server" access in order to utilize a template. Go to the server where you want to utilize the template in Discord by opening it.
Open the server configuration: To access the drop-down menu, click on the server name in the top-left corner of the screen. Then, choose "Server Settings."
Open the tab for templates: Look for the "Templates" tab on the left-hand side of the server settings menu. To visit the templates page, click on it.
Browse and select a template: Discord has provided a list of suggested templates on the templates page. Additionally, you can browse the various categories or conduct a search for templates using the search bar. To see a template's details in advance, click on it.
Preview and edit the template: After locating a template you like, click the "Preview" option to obtain more information about it. The server settings and templates are displayed here.
What template formats are supported in Discord?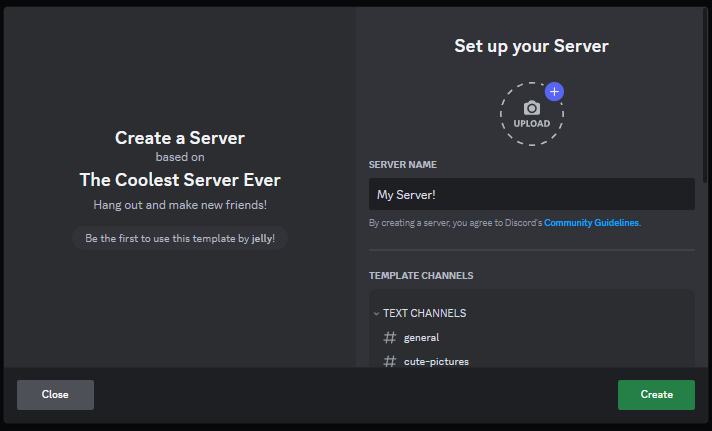 Users may simply develop and distribute server templates using Discord because it supports a variety of template types.  
Server Template Format (.dtpl): Discord uses this as its default template format. When using the template, a new server can have a variety of server configurations, permissions, channels, and roles attached to it.
JSON format (.json): Users can export and import server templates using this format using JSON files. All of the server configurations and settings are contained in a structured and readable fashion in JSON templates.
YAML Format (.yml or.yaml): Discord also accepts YAML for server templates. It is a human-readable data serialization format that uses lists, dictionaries, and scalars to describe data structures. For the purpose of creating new servers with predefined settings, YAML templates can be exported and imported.
Markdown Format (.md): Users of Discord are able to design and distribute server templates in Markdown format. Using a simple markup language called markdown, you may build elaborately styled pages by formatting plain text.
HTML Format (.html): Although HTML format isn't officially supported, several users have discovered ways to use it to build server templates. By copying the HTML code and entering it into Discord's server template creation dialog, HTML templates can be shared and used.
How can I save a template in Discord?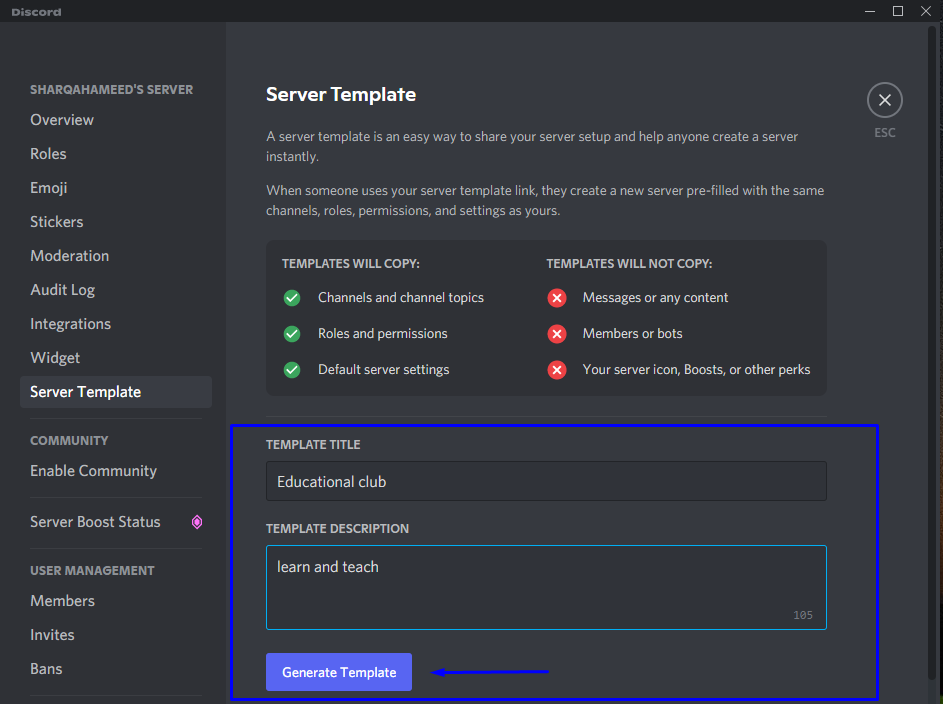 Go to the server you wish to save as a template in Discord by opening it.
Verify that you have the right permissions on the server to create and manage templates. Templates can only be saved by users who have "Manage Server" ability.
Select the server from the drop-down menu that appears next to its name in the top-left corner of the screen once you have the necessary permissions.
To access the server's settings, choose "Server Settings" from the drop-down menu.
In the left sidebar of the server settings, click the "Templates" tab.
Select the "Create Template" button on the Templates page.
A dialog box will open asking you to give the template a name and an optional description. Click the "Save" button after entering the required data.
A template has been successfully stored for the server. By selecting "Share Template" and copying the generated link, you may now share it with others.
---
Conclusion:
Discord templates have developed as an outstanding tool for streamlining and improving server setup and maintenance as we navigate the worlds of digital communities. By developing a Discord template, you build the framework for a customized, orderly server environment that accurately captures the spirit of your community. These templates' elegance comes from both their versatility and their user-friendly design. They give you the option to predefine roles, channel preferences, and even server configurations, resulting in a standardized and customized user experience.
A Discord template can be easily imported into a new server, providing a seamless way to transfer pre-defined settings and structures. These templates, when used in conjunction with regular upgrades and administration, may keep your server current, well-organized, and responsive to the changing demands of your community. The extensive template library, version control, and utility of descriptive names provide countless customization and control options.
The safety and security of your community members remain crucial despite all these fascinating features. Discord template power should only be used in responsible ways. This entails using bots sensibly, allocating role permissions carefully, and relying on Discord's verification levels to protect against any threats. Therefore, Discord templates go beyond just setting up and running servers to help create lively, secure, and safe online communities.