How to get the most out of Discords.com Premium.
Congratulations on being a premium user at Discords.com! We appreciate your support and have created this guide to help maximize your growth from our service and explain how to optimize your server listing. This service promotes you in front of millions of Discord users; to have them join your server, you need to grab and retain their attention.

Words are power.
Your short and long descriptions should capture our users' attention and convince them to click the join button. Consider using capital letters, emojis, and other strategies to grab attention. An important part is optimizing the first few words of your short description since that will be what users see first. Here is a good example: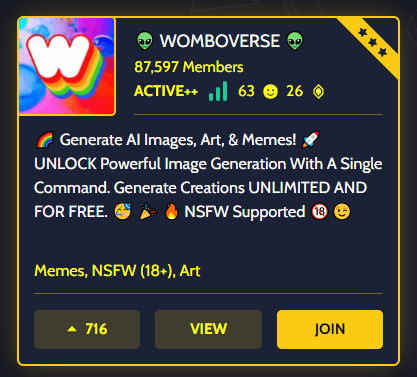 Add a maximum amount of keywords.
Keywords are how you get displayed on our lists. Adding the maximum amount to your /edit page will maximize your promotion. Some keywords get more traffic than others. I have listed a list of some keywords that are getting a lot of traffic (information only accessible to premium users, so use it). Keep in mind you should only add keywords that relate to your server; these are just some ideas:
Non NSFW:
gaming, featured, roleplay, chat, anime, meme, events, learning, music, art, talk to strangers, coding, netflix, Gta modding, gta 5 free money drop, celebrity, elden ring, nba 2k22, gf, make friends, COURSEHERO, ARAB, 2k, fortnite trading, ASIAN, india, random, apex boosting, FORTNITE SELLING, money drop, greek, argentina, 13+, csgo trading, sus, valorant boosting, egypt, indonesia, bangladesh, forex, graphic design, chegg, valorant boosting,
NSFW Tags:
hanime, roblox condo, xxx, boobs, gf, lesbian, hentai, +18, nudes, condo, femboy, ONLYFANS, leaks, sexting, HENTAI, ZOOM, PORN, account generator, milf, cuckold, horny, FREE MINECRAFT ACCOUNTS, e-dating, SHEMALE, PORNO, nsfw, PUSSY, 18+, gay nsfw, gay porn, sexy, boobs, putaria,
Add a Banner and Get Upvotes
The last point I am making is to upload a catchy banner to your server page and make your page look amazing. Premium servers get double the upvotes. Tell your members to upvote your server to further increase homepage and tag promotion (you do not have to get upvotes, premium servers with no upvotes are still heavily promoted).

If you have any questions, join our Support Server for quick response times. You will even receive an exclusive premium role!