Best Discord Server List (2023)
It's important to stay up to date on the top platforms for maintaining flawless communications in today's electronically connected society. Discord stands out among different platforms as a well-designed application ideal for in-the-moment messaging, phone and video conversations, document sharing, and much more. For those who value structured, synchronous communication, such as gamers, developers, hobbyist communities, and just about everyone else, this online communication platform is the best option.
Finding the finest server that meets your needs can occasionally be difficult due to the abundance of servers available. Herein lies the value of a list of Discord servers. You can choose from a variety of categories in this article's finest Discord server lists for 2023, which will help you locate a group that shares your goals and interests.
---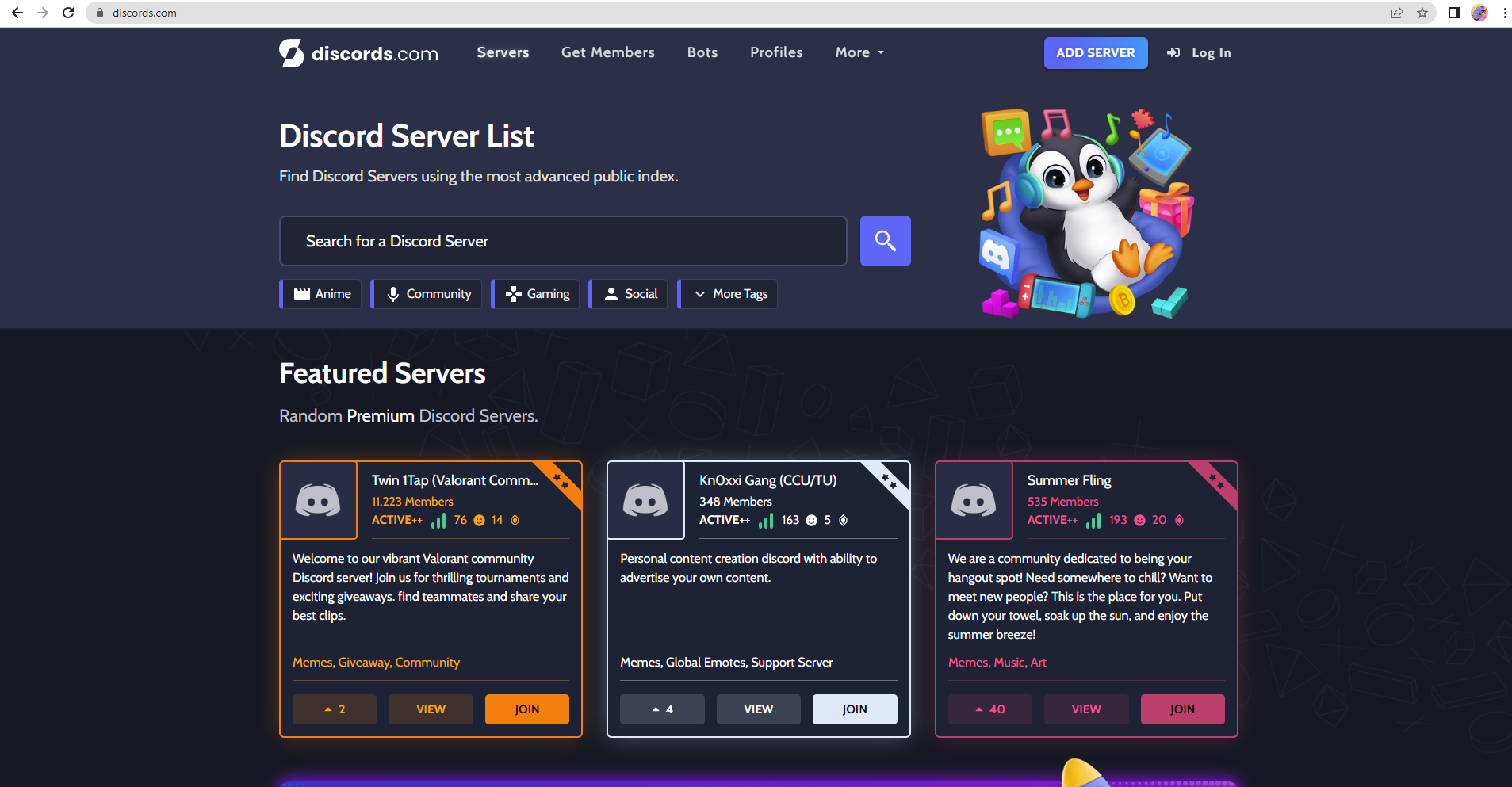 Discords.com is renowned for its outstanding selection of servers, including ones for gaming, sports, music, art, and technology. The platform has upgraded its algorithm in 2023, enabling more individualized server suggestions based on user activity and preferences. It is simple to explore among the thousands of servers offered because to the user-friendly UI.
Discords.com not only lists the most popular servers and ranks them by popularity, but it also gives comprehensive details about each server, including its membership, regulations, and mission statement. They also have an extensive search engine that enables users to look for servers by name, category, or even specific tags.
Because a crew is devoted to examining and confirming each server before it is added to the list, the platform is known for maintaining high-quality server listings. This makes sure that people connect with communities on this platform in a fun and safe way.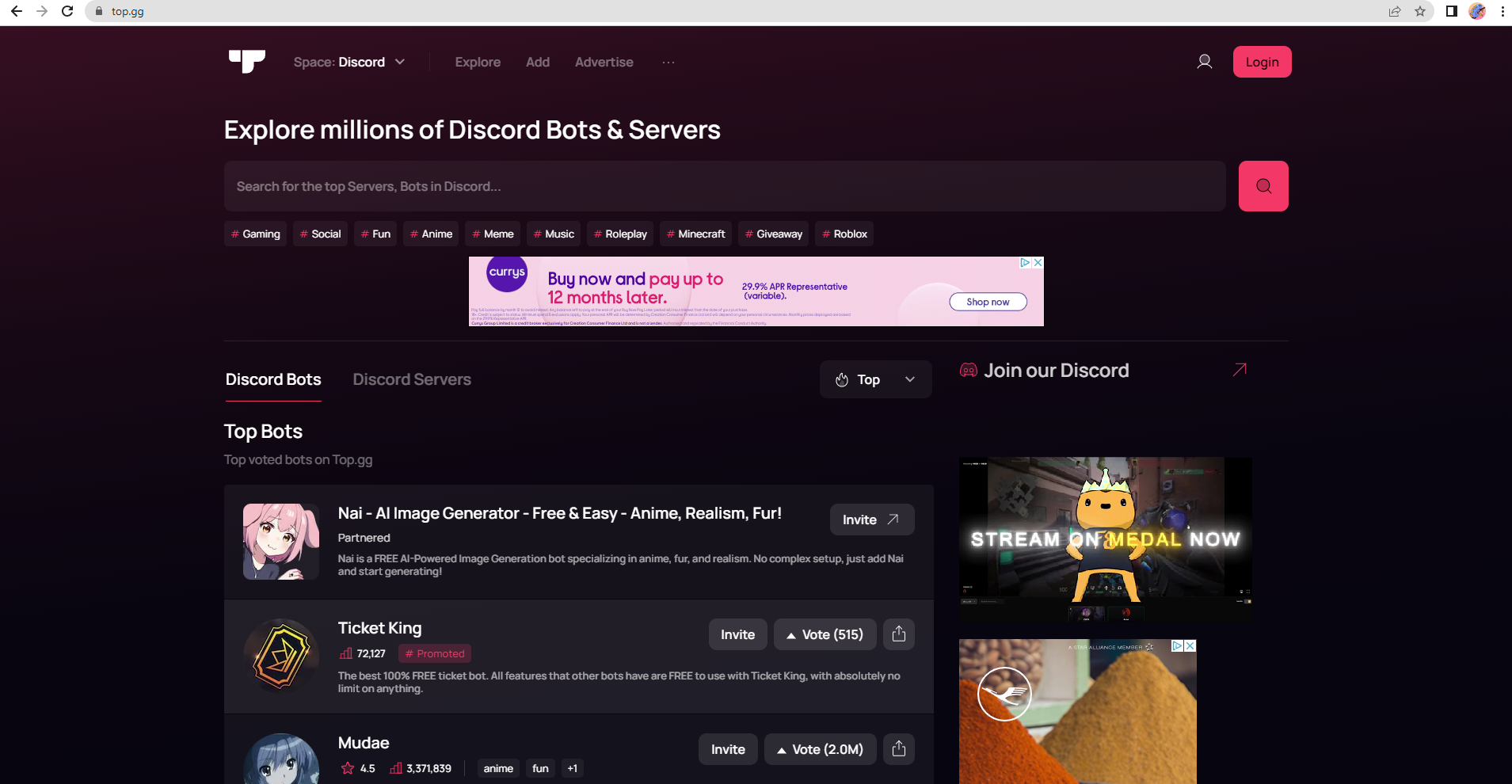 Top.gg is yet another treasure on the Discord server list. This platform offers a variety of features that make it a standout option for people seeking for a variety of server options. It is more than simply a server listing website; it is a hub for Discord bots and servers. Users have a wide range of options to pick from thanks to Top.gg's listing of a large number of servers in numerous categories.
The voting method on Top.gg is what makes it so beautiful. The most well-liked servers are elevated to the top of the list by member votes in the Discord community. With the help of this system, the best and most interesting servers are promoted, and new users can sign up with confidence knowing they'll be joining a lively, engaged community. Additionally, Top.gg offers thorough server information, such as the server's total members, online members, tags, and a server preview, to give potential new players an idea of what to expect.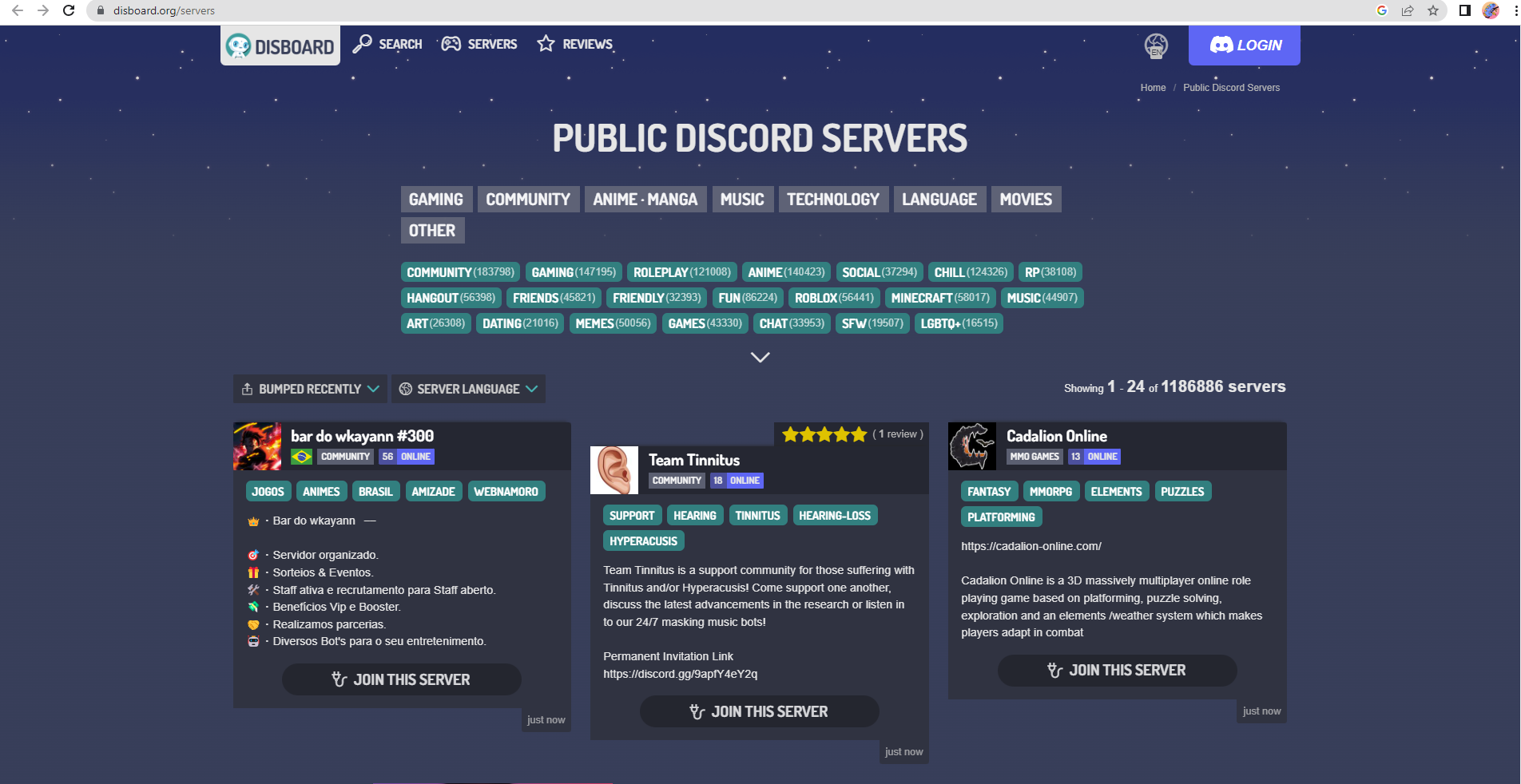 It's difficult to ignore Disboard.org, another competitor in the Discord server listing market. The website offers a huge selection of Discord servers for different interests, like gaming, anime, education, and technology, among many others.
Disboard's sophisticated review mechanism is one of its key selling points. Members can post reviews for the servers they've used, giving prospective members useful information about the community. As server administrators work to keep their communities happy in order to draw in new members, this open review system helps to preserve the quality of the servers offered.
The Random Server option on Disboard.org is another remarkable feature that transports users to a server that has been chosen at random, providing a sense of surprise and exploration to the user experience.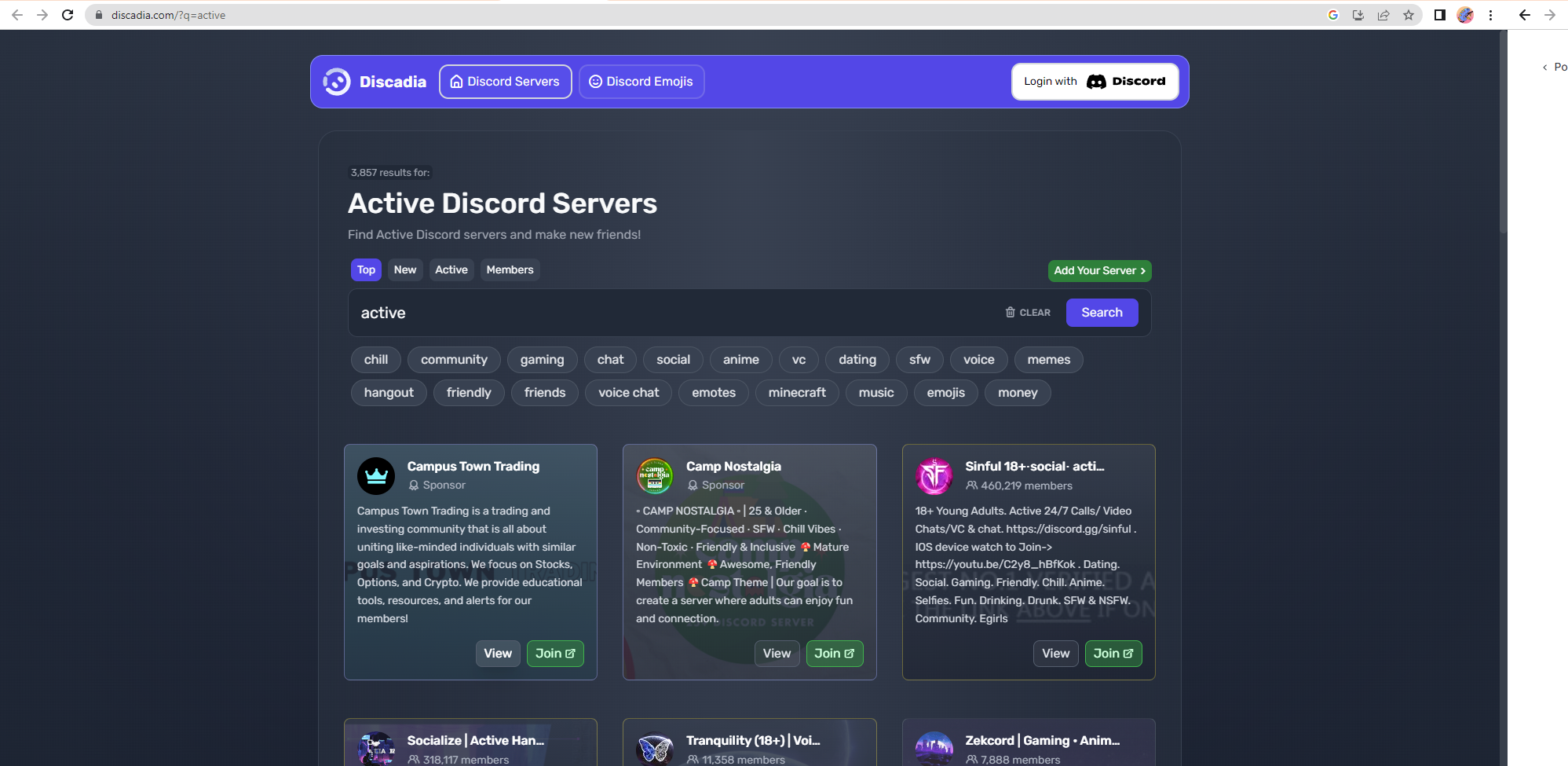 Discadia.com ought to be your go-to platform if you want active servers where talks never end. With its distinct emphasis on just showing the most active servers, this server listing site has established a reputation within the Discord community.
By filtering servers depending on their levels of activity, Discadia.com makes sure that new members only join servers that are vibrant and humming with activity. By doing this, the risk of joining a server only to discover that the last message was delivered several weeks ago is eliminated. In order to provide users a clear understanding of what they're getting into, the platform also displays server information such as total members, online members, and activity scores.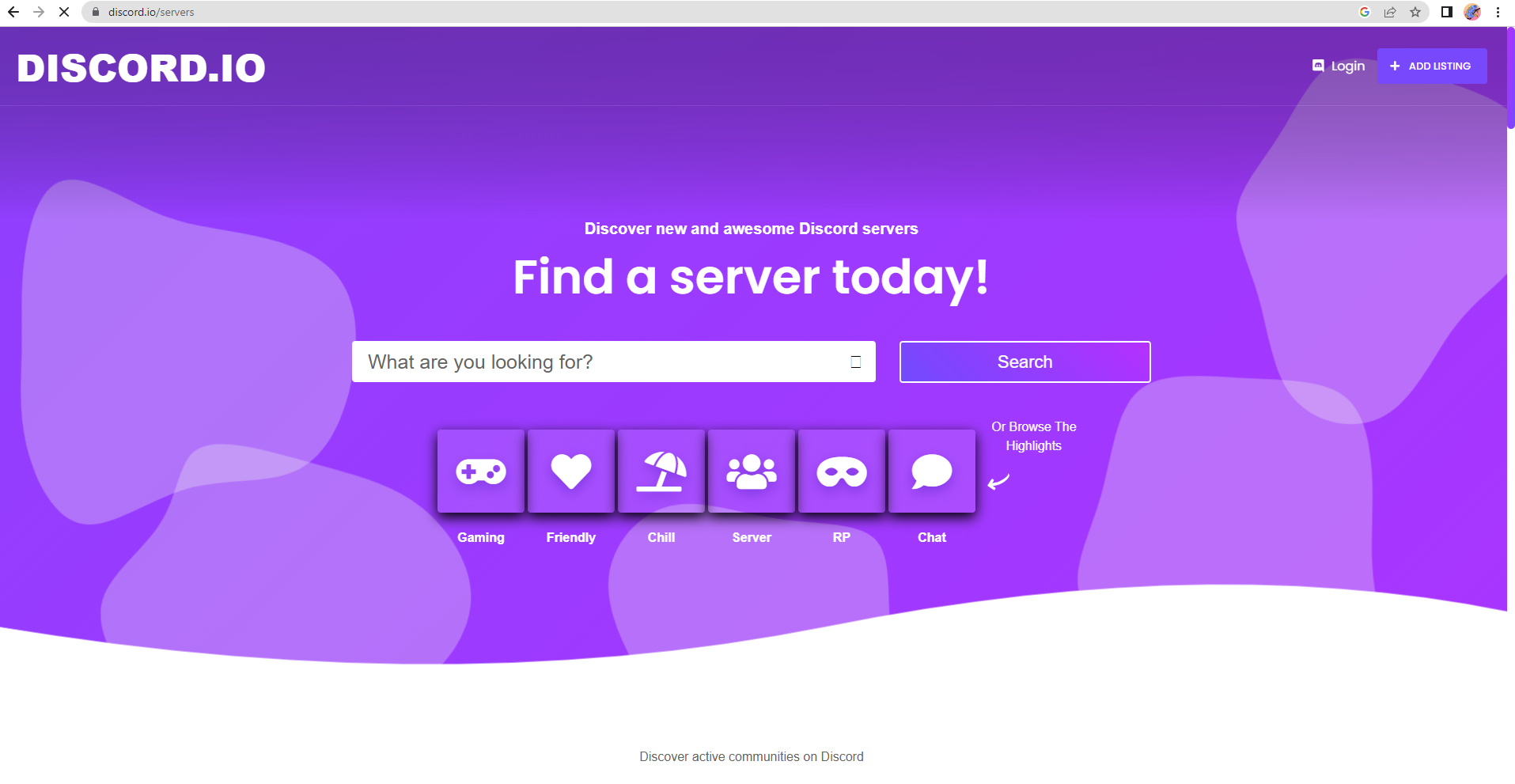 In the world of server listings, Discord.io has left a lasting impression. The platform is renowned for its simplicity and emphasis on offering consumers a simple way to find new servers. Finding a server to join is quite simple because it neatly groups servers into a variety of hobbies.
The vanity URL service on Discord.io, which allows server operators to design unique URLs for their servers, is a noteworthy feature. In addition to making it simpler for potential members to sign up, this also enables server owners to more successfully advertise their servers. Discord.io has gained popularity within the Discord community thanks to its blend of usability and simplicity.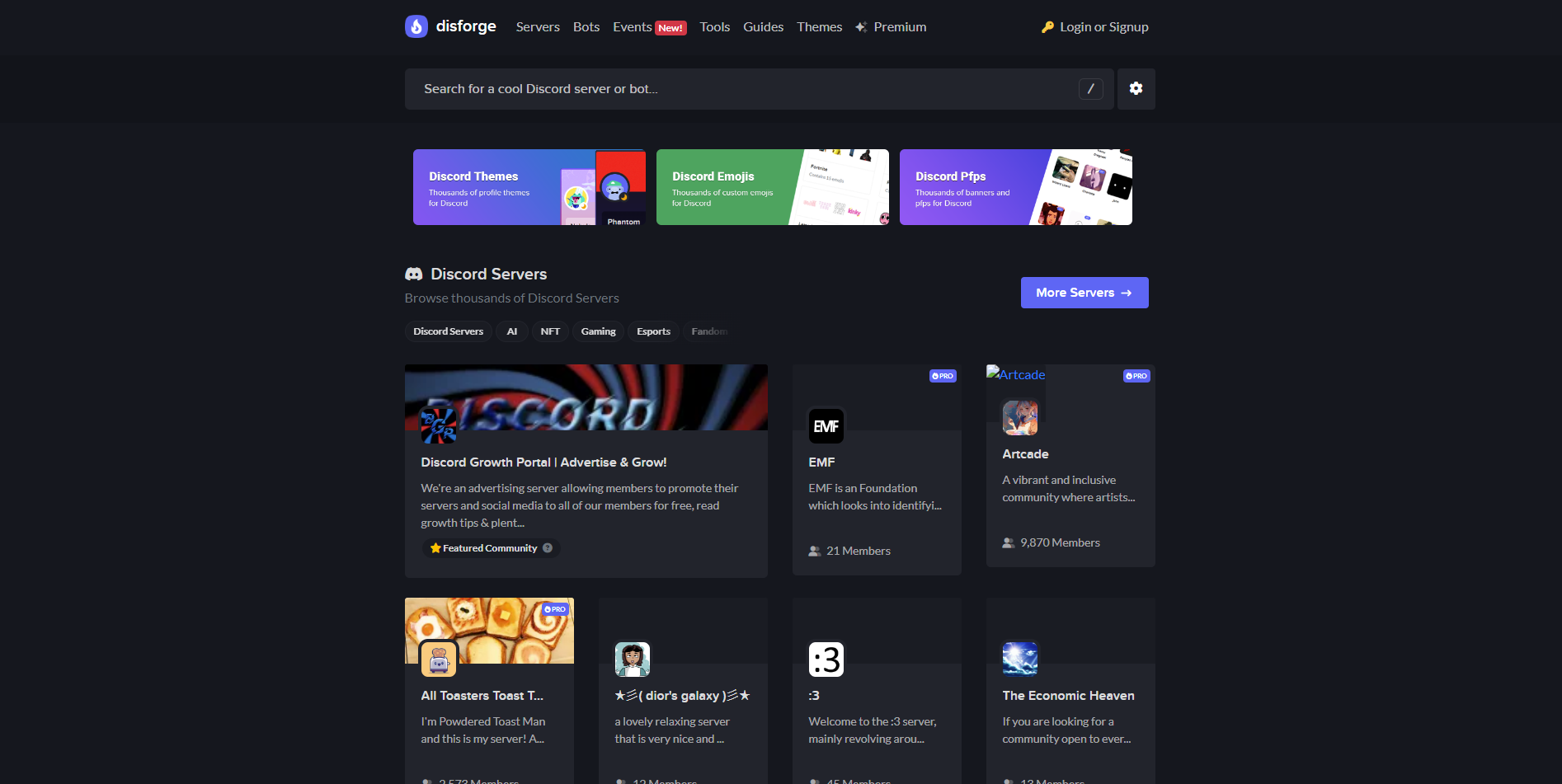 Disforge is last but not least on our list. Disforge has established a reputation as a trustworthy resource for locating top-notch Discord servers. Disforge goes above and beyond to offer its users a wide selection of server alternatives, with categories ranging from gaming and memes to programming and cryptocurrencies.
Disforge's focus on server quality is one of its features. Each server on the platform goes through a thorough review procedure to make sure it upholds a high quality and provides a secure environment for members to engage. Disforge's extensive search and filter capabilities also make it simple for users to locate servers. Disforge stands out as a dependable resource for locating the top Discord servers thanks to its dedication to quality and user-friendly design.
---
FAQs:
How can I find the most popular Discord servers?
There are a few approaches you can use if you want to locate the most well-liked Discord servers. These can include sites found in the blog above, and more such as community recommendations.
Here are some practical methods for finding well-liked communities on Discord: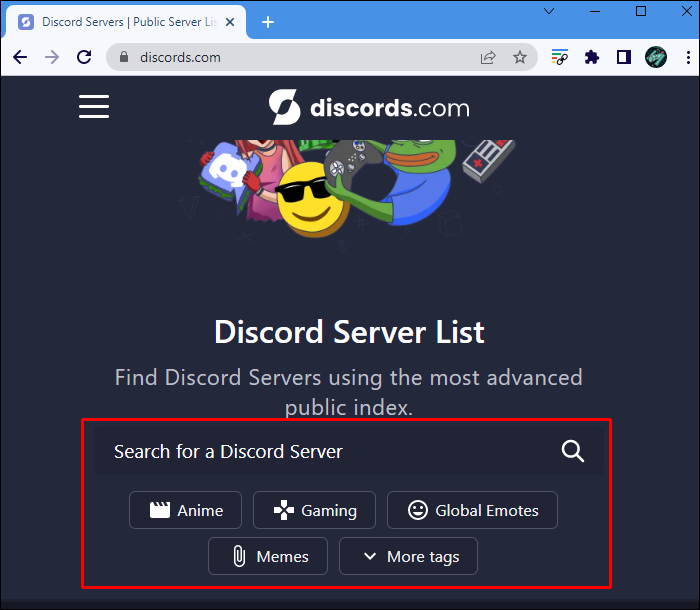 Discord Server Listing Websites: Discord.me, Discord.org, and Discord Server List (discord-server.com) are a few well-liked alternatives. These platforms enable users to search and join servers based on their interests and server owners to advertise their services.
Discord Server Discovery: Discord has a server discovery feature built-in that can assist you in finding well-liked servers. Click the "Explore Public Servers" icon in the Discord app's left sidebar to go there. By doing so, a directory of suggested, trending, and well-liked servers across several categories will be opened.
Community Recommendations: A wonderful way to find well-liked servers is to ask your friends, online communities, or other Discord users for recommendations. Users frequently have specific channels or threads on websites like Reddit, Twitter, or niche Discord groups where they can share and discuss their favorite servers.
Social media and YouTube: A number of well-known Discord servers are advertised and discussed on social media sites like Twitter, Instagram, and Facebook. Additionally, Discord servers owned by YouTubers and broadcasters are frequently popular due to their content.
What is the best way to find Discord servers related to my interests?

Discord Server Lists: A number of web resources collect and organize Discord servers. Disboard (disboard.org) and Discord (discord.me) are two well-known examples. The communities can be listed on these websites under pertinent categories, making it simpler for consumers to find them.
Reddit: Reddit is a gold mine of communities with Discord servers and virtually every other topic imaginable. Look for articles or megathreads sharing Discord invites on subreddits devoted to your interests. As an alternative, you might ask other Redditors for advice related to your field.
Social media: You can also identify Discord servers relevant to your hobbies by using social media sites like Twitter, Instagram, and Facebook. On these platforms, many communities advertise their servers or distribute invites.
Niche Websites and Forums: Look through blogs, forums, and websites that are focused on your interests. These platforms frequently offer links to relevant groups or host their own Discord servers.
---
Conclusion:
Platforms like Discord have changed the way we communicate, work together, and participate with various communities in a digital world that is continually growing. It is the best location for synchronous communication because of the enormous variety of servers it hosts, each of which serves a different niche. The requirement for an extensive server list is made clear by the sheer number of servers. Users can choose communities that suit their preferences on websites like Discords.com, Top.gg, Disboard.org, Discadia.com, Discord.io, and Disforge, which helps to ensure a positive experience.
Each of these platforms contributes something distinctive, ensuring that the many interests of the Discord community are properly catered to. With its algorithm-driven suggestions, Discords.com focuses on providing a personalized experience, whereas Top.gg uses a community-based vote mechanism to increase server visibility. Disboard.org's thorough review system promotes transparency, and Discadia.com distinguishes out for its emphasis on active servers, which guarantees continued lively conversations. With its simple style and distinctive vanity URL functionality, Discord.io makes it easier to find servers, whereas Disforge emphasizes the value of quality with its rigorous manual review procedure.
In conclusion, it is impossible to exaggerate the value that these server listing sites provide. They help potential users choose a server that resonates with their interests and needs by bridging the gap between the hundreds of Discord servers and users. These platforms improve the user's journey of discovering lively, interesting, and valuable communities on Discord by offering a variety of categories, clear reviews, thorough server information, and cutting-edge features. Without a question, they are the essential resources to consult in 2023 for anyone wishing to enter the Discord community.